All Solutions Pest Control - 636-249-1311
---
Testimonials
We love our Customers!
I had a scheduled time of 9 am - 11 am and Chad J. showed up at 10 am, perfect! He was very polite and courteous, even taking time for my dog to get used to him. He asked me exactly where I'd seen the spiders and ants, and then proceeded to address each area thoroughly and appropriately. When he was done, he explained what he had done, gave me his card with his number (telling me to call if there were any issues), said goodbye to my dog and then left as politely as he came in. He was a very nice young man (great work ethic too!) and I'm also very pleased with the very quick responses I've received from All Solutions when an issue arises. Thank you! Robert C.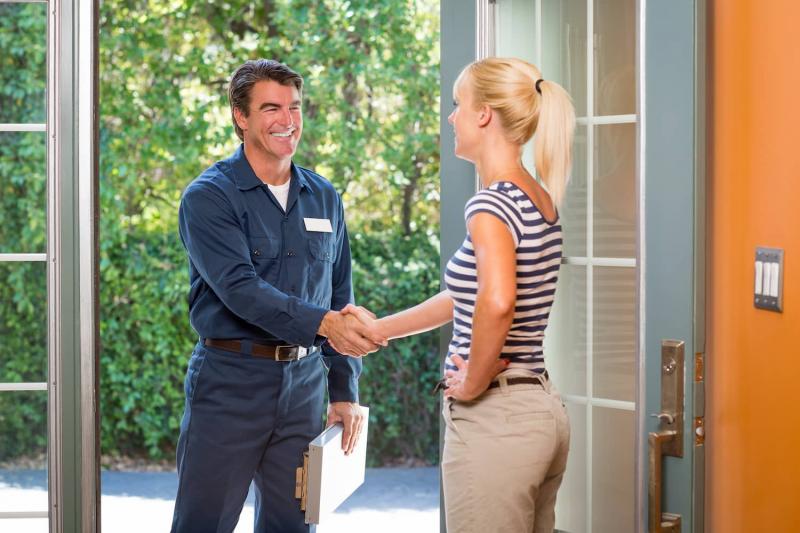 All Solutions has been impressive from the time we met Caleb yesterday to our service being completed by Spencer this evening. Caleb is highly knowledgeable and professional which made our decision process easy by answering all of the questions we had. Thanks, Caleb! Spencer, our tech, showed up this evening and he was incredibly professional and flexible. He took his time in explaining what he is going to do and went for it. He really takes the time to thoroughly get the job done. Thanks, Spencer! Lori M.
Great customer service! Had our first treatment today. Derek stopped by to explain the packages and services and I was able to arrange for treatment on the same day. The technician, Joseph, came a couple of hours later. Joseph was meticulous, courteous and provided a lot of great information. Both of these gentlemen were very helpful and well informed. Nice to see a company that hires such great people! Marie K.
This is my first time using this company and I am very pleased. I had found termites in the front and back yard (outside the house thankfully) but they sent out Parker who did a wonderful job. He was quick and efficient. He explained why he was doing some of the things he was doing and answered all my "just out of curiosity" questions. I would recommend this company to anyone! Randy H.
Amazing service, kind and knowledgeable employees. Joe came to our door and initially signed us up. He was very informative and made this company the obvious choice for our pest control needs without overselling. The next day (today) we had a young man named Joseph come spray the house--inside and out. He assured me it was safe for myself, my baby and my 3 cats to be in the house during treatment. He was very sweet, made sure I understood everything the company does, and even asked me about specific trouble spots and specific bugs in certain places in the house that I wanted taken care of. They have multiple types of sprays for different kinds of pests, which was cool to me. You can't beat the price or service of this company. I'm told they are family owned, which is very apparent in how well things are run and how the employees conduct themselves in a professional but personable manner. Very appreciative to Joe and Joseph for taking such great care of us! Jordin S.
The techs are very informative. Answer all your questions and very friendly. Anna H.
I had my initial spraying today and I am very happy that I choose All Solutions Pest Control. My parents have used them for years and I see why. Chad was not only on time but early. He was very accommodating to my sleeping daughter. He explained everything in detail before he started then explained exactly what he had done outside when he was finished. I know I will be very happy with the results!! Katelyn H.
From the time I met Dan our sales Rep. To having Joseph come to our home. It's been a great experience. These guys are VERY PROFESSIONAL and VERY POLITE. So nice to have great people do a great job. Thanks guys. And God bless. W D.
Parker came to the house today to spray inside and out for our initial visit. He was kind, courteous, and very thorough. All Solutions Pest Control seems to offer a fantastic service for a reasonable price. Our previous pest control company was doing an ok job, but not as good as I would have liked. All Solutions seems to do a little bit more for roughly the same price. So I'm excited to work with them! Andrea S.
Very thorough and professional company! Easy experience from first phone call to service. Spencer, my technician, arrived at the beginning of the appointment timeframe I was given (2-4pm, arrived right at 2). This was an appoint that I received the same day I called for service... on a Saturday! He was dressed in full uniform, and was well spoken and represented the company well. This makes a difference to me when I let someone in to my home. All solutions definitely goes the extra mile to provide a value packed service! Bluegrass Landscaping & Maintenance